01 02 Poetry Assignment For Middle School
Calling on the Muse: Exercises to Unlock the Poet Within


I think that I shall never see ... well-disciplined creativity! How often has that thought crossed your mind? Don't despair! The experts -- working poets who teach their craft -- share their secrets for instructing and inspiring budding poets. Included: Exercises to help students access their creative powers and produce well-crafted poems.
Teaching poetry can be a tricky business. Concentrating too much on the theoretical aspects of poetry, such as rhyme scheme, scansion, feet per line, and poetic form can stifle students' creativity. Turning students loose with only pen, paper, and instructions to write a poem, on the other hand, can result in undisciplined drivel. Helping students achieve that delicate balance of theory and creativity is never easy.
Give the following techniques and exercises a try. Working poets use them to teach and inspire students of all ages.
SELF-EXPRESSION
"When we go into schools, our focus is to get the students to write, not to teach the theory of poetry," said Faith Vicinanza. She is the organizing force behind Words in Motion, a collective of poets who perform and teach in schools and other venues. "We want them to put something down on paper, something significant.
"Through the years, I've developed a whole set of exercises designed specifically to get students writing from a particular place," Vicinanza added. "A lot of teaching of poetry makes it seem much too difficult, too inaccessible for the lay person. But writing poetry is a simple form of self-expression. That's what I try to convey in my classes."
Vicinanza shared with Education World four exercises she has used successfully in workshops with both children and adults.
I'm sorry, but . . . "There's a wonderful poem by William Carlos Williams in which he apologizes for eating someone's plums," explained Vicinanza. "He ends the poem with 'but they were so sweet'. I have my students write a tongue-in-cheek apology. They're sorry for something, but at the end there's always a reason why they enjoyed doing what they're expressing sorrow for. An example of this is 'I'm sorry I broke your window, but it's the first time I ever hit a home run.'"
Be something else. "This is a very cool exercise," Vicinanza explained. "I have the kids be something. It might be a drop of rain, the color blue, a school bus, or a stalk of wheat. I ask the class for suggestions and write them on the board as the students shout them out. Then I ask each student to choose one. They have to be that object and tell me what they see, where they go, and how old they are. They can even make up a little biography of their object. This works very well."
Through the carnival door. "This exercise works better with high school kids or adults," noted Vicinanza. "I ask students to imagine they're at a carnival. They see a very strange-looking guy disappear into a doorway that somehow wasn't there a few seconds before. They follow the guy, and they have to tell me what happens once they're through the door. Where have they gone? What do they see? It's amazing what the students come up with."
The strike out exercise. "For this exercise, the students give me a list of suggestions for different subjects to write about. I pick one, and they all write on the same subject. For example, the subject could be wind chimes or a stone wall," Vicinanza said. "Then everyone gives me a word. We make a list of the words and the students have to write a poem that doesn't use any of the words on our list. This forces the students to be more creative."
 
IMAGINATION
Elizabeth Thomas, an accomplished performance poet who frequently conducts in-school workshops, is the director of Words Alive, a program that sponsors distinguished poets to work with high school students.
"When I go into schools, I try to get the students to think outside their normal boundaries," Thomas said of her approach to leading workshops. "In school, the students might be coming from math class, where they're not used to using the right side of their brains. As the poetry person for a day, I have to come up with creative ideas that help the students stretch their imaginations.
"If I tell the kids to simply write a poem, it's not going to happen. You have to find the fun in it," added Thomas, whose Web site, UpWords Poetry, often features student writings from her workshops.
One of the exercises Thomas has used successfully is the Emotional Workshop, in which she asks participants to write a five-line poem.
The first line of the poem involves an emotion: sadness, anger, confusion, hurt.
The second line describes the emotion as a color. For example, a student might describe anger as "red as a stop sign;" happiness might be "as pink as a puppy's tongue."
The third line starts with "It happens when . . .." For example, "Anger happens. . .when I'm told to get up in the morning." "Confusion happenswhen I have a test but don't do my homework."
The fourth line begins with "It sounds like . . .." For example, "Sadness sounds like. . .a kitten left out in the rain."
The last line of the poem repeats the original emotion.
 
IT ISN'T PROSE
It would be hard to find a poet with more teaching credentials than Pit Pinegar. A member of the Litchfield Performing Arts group, Poetry Alive, Pinegar teaches at the Greater Hartford Academy of Arts and is the teaching director at the International Women's Writers Guild Conference. She's published two books of her own poetry and will soon publish a book about teaching poetry to children. "In many of the exercises I use, I'm trying to get the kids to think in terms of poetry and not prose," Pinegar said. "The necessity of writing in complete, well-punctuated sentences is constantly drummed into the kids' heads. So, often they're not used to expressing themselves in abbreviated thoughts. I try to break down their resistance to that."
Pinegar uses two exercises to accomplish this:
Make a list. "I have a whole series of list-based poems, about 20 variations. In one of them, I choose six general, unrelated words from a list of suggestions the kids give me. Then I ask them to use all the words in a poem," explained Pinegar. "A variation of this is to choose one word from the list and build a poem around it."
Everything including the kitchen sink. "This is another exercise I often use," Pinegar added. "I ask the students to list all the details they can remember about a place that's very familiar to them. It might be their bedrooms, their classroom, or the kitchen sink. After they've made their lists, I ask the students to work them into poems."
These exercises and others, used in workshops led by accomplished teaching poets, are designed to help students access their creative powers and produce well-crafted poems. Any one of them can help get your students' creative juices flowing -- and help you create some poetry-writing exercises of your own.
ADDITIONAL ONLINE RESOURCES
Kristine O'Connell George Poet
Kristine O'Connell George offers poems for children as well as tips and exercises for teaching poetry.
Related Articles from Education World
A Quotation a Day: Just What the Language Doctor Ordered
Quotations can be used to develop students' writing and critical thinking skills. Included: "Why use quotations?" plus a quotation a day for 180 days of school.
Rhyme Time Poetry Plans and Projects
Bring poetry into your classroom through monitor and modem with the help of these activities!
Seventh Graders Writing Italian Sonnets? You Bet!
Let's take a look at a program that has kids writing all kinds of poems---from quatrains to limericks to (yes!) Italian sonnets.
Article by David Martin
Education World®
Copyright © 2008 Education World
Links last updated 04/09/2012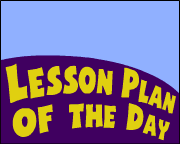 View a selection from our Lesson Plans of the Day featture below. Or, if you are interested in viewing lessons by subject, click on one of the following pages:
The Arts
Health and Safety
History
Language Arts and Reading
Math
Physical Education
Science
Social Sciences
Technology
LESSON PLAN OF THE DAY ARCHIVE
Balloon Volleyball
Stuck indoors? Set up a net, blow up a balloon, and play balloon volleyball. (Grades 3-12) 12/03/2010
Guide Word Game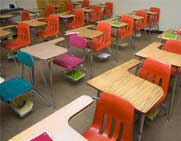 Students locate dictionary guide words in this timed team game. (Grades 3-8) 12/02/2010
Bury Those Negative Thoughts
This powerful activity will help bury students I cant thoughts and build perseverance. (Grades K-12)
Biograph Chat
Conduct interviews with historic figures in a TV talk-show format. (Grades 3-12) 11/30/2010
Getting Started With Essays
Reading an essay about teen issues inspires reflective writing about ones own life. (Grades 6-12) 11/29/2010
Rosa Parks Changed The Rules
Recognize the anniversary of Rosa Parks historic bus ride (December 1) by completing a diagram of the bus. (Grades K-5) 11/24/2010
Synonym Match Game
Challenge students to find the matching synonyms. Synonym list included. (Grades 3-12) 11/23/2010
5-Minute Mug Cake (An Easy Chocolate Gift)
An easy recipe makes a great holiday gift for kids to give. (Grades K-12)11/22/2010
Thanksgiving Placemats: A Community-Service Project
Make Thanksgiving placemats as a community service project. (Grades PK-12) 11/19/2010
Where in the World?
Find the country names that match the latitude and longitude points, solve the riddle. (Grades 3-12) 11/18/2010
You Are the Historian: Investigating the First Thanksgiving
Learn the truth about the First Thanksgiving. (Grades 3-8) 11/17/2010
Penny Power
Pennies can be used for everything from teaching probability to challenging students creativity. (Grades 3-12) 11/16/2010
Design a Navajo Rug -- A Lesson in Symmetry
Create a Navajo rug; a lesson in symmetry. (Grades 3-8)11/15/2010
Anti-Smoking Letter Writing Campaign
Celebrate the Great American Smokeout (November 18) by having students write a letter to encourage a friend not to smoke. (Grades 3-12) 11/12/2010
Speed State-ing
Tons of fun resources for teaching students U.S. states names and locations. (Grades K-12) 11/11/2010
Lewis and Clark's Journey West: A Timeline Activity
Recognize the anniversary (November 18) of Lewis & Clark reaching the Pacific. (Grades 3-12) 11/10/2010
Riddle BINGO
Play a fun thinking game, Riddle BINGO. A great reward activity! (Grades 3-8) 11/9/2010
Smoking Danger Demonstration
Recognize the Great American Smokeout (November 18) by demonstrating the dangers of smoking. (Grades K-12) 11/8/2010
How Did Civil War Soldiers Battle Boredom?
Battling boredom in Civil War days; a Venn diagram activity. (Grades 3-8) 10/29/2010
Parachute Drop
Follow directions to create parachutes that safely carry paperclip passengers. (Grades K-4) 10/28/2010
The Story of Louis Braille
Learn about Louis Braille's system for the blind. Use an online Braille translator. (Grades 3-8) 10/27/2010
Where Are They Today?
Explore the history of native peoples of the United States. (Grades 3-8) 10/26/2010
Taking Stock in the Stock Market
Track the ups and downs of the stock market -- and the reasons for those fluctuations too. (Grades 4-12) 10/25/2010
Fun With Origami!
Hands-on activities teach about origami, an Asian paper-folding art form. (Grades 3-12) 10/22/2010
"War of the Worlds": A Broadcast Re-Creation
Relive -- and re-create -- the panic-causing 1938 radio broadcast of "War of the Worlds." (Grades 6-12) 10/21/2010
What Is Your B-estimate? (Making Best Estimates)
Estimate the number of kernels on an ear of corn. Plus more estimating challenges! (Grades 2-12) 10/20/2010
Going Batty
Use maps to find the answers to questions about bat habitats in the United States. (Grades 3-12) 10/19/2010
Capital Ideas (for Teaching State Capitals)
Ideas and resources for teaching state capital names and locations. (Grades K-12) 10/18/2010
Autumn Colors Shine Through
Let autumn shine through with colorful window decorations. (Grades K-5) 10/15/2010
Im Not Good at
A powerful activity to help bury students' "I'm not good at" and "I can't" thoughts. (Grades K-12) 10/14/2010
Riddle BINGO
A fun game for exercising students higher-level thinking skills. (Grades 3-8) 10/13/2010
Halloween Party Alternatives from UNICEF
Replace your Halloween party with a valuable service-learning project. (Grades PreK-12) 10/12/2010
Math on the Move
Reinforce any math skill. Get kids moving with this math active-ity. (Grades K-12) 10/11/2010
Im Not Good at
A powerful activity to help bury students Im not good at and I cant thoughts. (Grades K-12) 10/08/2010
Celebrate Character Counts! Week In October
Ten ideas for celebrating Character Counts Week (October 17-23). (Grades PreK-12) 10/07/2010
The Pumpkin in the Jar -- A Riddle Story from the Philippines
Solve the riddle in this cause-and-effect folktale from the Philippines. (Grades 3-8) 10/06/2010
Facing Fire Facts
Read graphs about fire safety statistics; answer questions about them.(Grades 3-8) 10/05/2010
Sybil Ludington: The Other Paul Revere
Learn about Sybil Ludington, a young girl who is often called the other Paul Revere. (Grades 3-8) 10/04/2010
Celebrate Character Counts! Week In October
Ten ideas for celebrating Character Counts Week (October 17-23). (Grades PreK-12) 10/01/2010
Im Not Good at
A powerful activity to help bury students Im not good at and I cant thoughts. (Grades K-12) 09/30/2010
Oink! -- A Math Game
Students aim to hog all the cards as they practice math skills. (Grades K-12) 09/29/2010
Facing Fire Facts
Read graphs about fire safety statistics; answer questions about them.(Grades 3-8)
Wednesdays Lesson Plan of the Day 09/28/2010
Parts of Speech Game
Students win this game by matching words on the teachers list. (Grades 2-12) 09/27/2010
Read-a-Thon
Read books to raise funds for the school library. (Grades K-12) 09/24/2010
P Is for Poetry
Young students, ESL students build vocab as they create simple ABC poems. (Grades K-12) 09/23/2010
Think Twice for Rice: A Grammar and Vocabulary Game
This game offers fun and learning as it helps to feed hungry people around the world. (Grades 3-12) 09/22/2010
Earn Spelling Points!
More than 20 activities for spicing up your weekly spelling lessons. (Grades K-12) 09/21/2010
Nouns Around the World
Use online translators to explore nouns and foreign languages. (Grades 3-8) 09/20/2010
The Week That Was
A weekly writing assignment results in a year-end volume of work that documents students' writing progress. (Grades K-12) 09/17/2010
Then and Now
Compare, contrast current and historical maps of your community. (Grades 3-12) 09/16/2010
Sum of the Square
Practice adding a column of numbers. (Grades 3-5) 09/15/2010
Read a Fall Foliage Map
Use a color key to read a fall foliage map. Printable work sheet included. (Grades 3-8) 09/14/2010
High and Low Temperatures (A Monthly Bulletin Board)
Plot daily high/low temps on this bulletin board. Follow-up activities included. (Grades K-12) 09/13/2010
Graph the Results: Applesauce Taste Test
Make three kinds of applesauce, hold an applesauce taste test. (Grades PreK-8) 09/10/2010
Fall-Leaf Sun Catchers
Use pipe cleaners and tissue paper to make eye-catching fall leaf sun catchers. (Grades K-8) 09/09/2010
Did You Know...
Take a true-false quiz about Hispanic history. (Grades 6-8) 09/08/2010
5-Minute Writing: A Daily Activity
Use a daily 5-Minute Writing period to help build better writers. (Grades 3-12) 09/07/2010
How Well Do You Follow Directions?
Teach valuable lessons about listening and following directions. (Grades K-12) 09/06/2010
Tracking Falls Falling Temperatures
Reinforce many skills by tracking falling temperatures this fall. (Grades 3-12) 09/03/2010
Heads Up for Open House
Create a fun display for Open House Night. (Grades K-8) 09/02/2010
Pinwheels for Peace
Create "pinwheels for peace" to celebrate International World Peace Day September 21. (Grades K-12) 09/01/2010
Lesson of the Day
Five quick games build reading skills. (Grades K-8) 08/31/2010
Lesson of the Day
Use tiny pieces of state maps as clues to figuring out the state. (Grades 3-12) 08/30/2010
Where Do Words Come From?
Discover the foreign-language roots of English words. (Grades 6-12) 08/27/2010
Heads Up for Headlines!
Write headlines that express the main ideas of news stories. (Grades K-12) 08/26/2010
A "Typical Day Then and Now
Celebrate Grandparents Day (Sept. 12). Students compare their "typical day" to a grandparent's childhood. (Grades K-8) 08/25/2010
Goldilocks: The Sequel
Write a sequel to the classic story "Goldilocks and the Three Bears." (Grades 3-8) 08/24/2010
President Jefferson's Cipher: Cracking the Code
Crack the code President Jefferson used to communicate with Lewis & Clark. (Grades 3-12) 08/23/2010
Where Do Words Come From?
Discover the foreign-language roots of English words. (Grades 6-12) 08/20/2010
Heads Up for Headlines!
Write headlines that express the main ideas of news stories. (Grades K-12) 08/19/2010
A "Typical Day Then and Now
Celebrate Grandparents Day (Sept. 12). Students compare their "typical day" to a grandparent's childhood. (Grades K-8) 08/18/2010
Goldilocks: The Sequel
Write a sequel to the classic story "Goldilocks and the Three Bears." (Grades 3-8) 08/17/2010
President Jefferson's Cipher: Cracking the Code
Crack the code President Jefferson used to communicate with Lewis & Clark. (Grades 3-12) 08/16/2010
Experiencing Slavery and Imagining Freedom
Read slaves personal accounts of slavery; write a slave's account of freed
(Grades 3-12) 08/13/2010
Stage a Debate: A Primer for Teachers (Lincoln-Douglas Debate Format)
Ten strategies for creating lively debates in the classroom. (Grades 3-12) 08/12/2010
Guess-timating Fun
Fun activity reinforces estimation, number lines, mean, median, more. (Grades K-12) 08/11/2010
Create a Word
Have fun making up new words, writing definitions for them. (Grades 3-12) 08/10/2010
Puzzle Race Builds Cooperative-Group Skills
A puzzle race builds cooperative group work skills. (Grades K-8) 08/09/2010
Getting-to-Know-You Crossword Puzzle
A class crossword puzzle makes a great back-to-school activity or bulletin board. (Grades K-12) 08/06/2010
Presidential Timeline
Create a Presidents of the United States timeline. (Grades 3-12) 08/05/2010
Got the Time? (Math Word Problems)
Word problems put students' time-telling skills to practical use. (Grades 3-8) 08/04/2010
Kudos by Kiddos
Students design and award medals for their favorite children's books. (Grades 3-12) 08/03/2010
Simon Says "Who Are You?"
This Simon Says game highlights students similarities, differences. (Grades K-5) 08/02/2010
Copy-Paper Scrap Projects
Turn scrap paper into a lesson in following directions. (Grades 3-8) 07/30/2010
Rockin' Rhythm Band
Create rhythms from ordinary objects. (Grades K-12) 07/29/2010
Graphing Greenery
Plot on graph paper the coordinates for the shape of a leaf. (Grades 3-8) 07/28/2010
Fabulous Firsts in African-American History
Learn about famous firsts in African-American history. (Grades 3-12 07/27/2010
Spelling BINGO
Review spelling words by playing Spelling BINGO. (Grades K-12) 07/26/2010
Puzzles With Partners
A fun reward activity involves puzzles and cooperative groups. (Grades K-12) 07/23/2010
Headline News
Create simple stories using words cut from newspaper headlines. (Grades 3-12) 07/22/2010
Be on the Lookout!
Create Wanted posters for destructive bugs. (Grades 3-8) 07/21/2010
Honor Your School and Community Heroes
Students create special event or award to honor a community hero. (Grades K-12) 07/20/2010
Magic Sum
Learn a "magic" trick as you practice two-digit addition. (Grades 3-8) 07/19/2010
The Mail Race
Students write friendly letters to random schools; track responses on a map. (Grades 3-8) 07/16/2010
Five Spelling Games
Spice up spelling routines with these five activities. (Grades K-8) 07/15/2010
Working on the Slant
Learn about slant by comparing how several newspapers cover a story. (Grades 3-12) 07/14/2010
Globe Game
Challenging Globe Game develops geography skills. (Grades K-12) 07/13/2010
Lewis and Clark and the Native Americans
Learn how the Lewis & Clark expedition impacted Native tribes. (Grades 6-12) 07/12/2010
Do the Hokey Pokey in Many Languages
Do the hokey pokey -- in many languages! (Grades K-8) 07/09/2010
How Long Does Trash Last? (A Cooperative Learning Activity)
In this cooperative activity, learn how long trash lasts. (Grades 3-8) 07/08/2010
"Place the State" Game
Can students correctly place all 50 states on a U.S. map? (Grades 3-8) 07/07/2010
Popcorn Math
Use popcorn to teach a wide range of math concepts. (Grades K-8) 07/06/2010
Breaking the Code
Learn about the importance of cryptography during WWII. (Grades 6-12) 07/05/2010
Fun With Numbers
Use Lakota Indian number words to solve math problems. (Grades 3-5) 07/02/2010
Around-the-Room Review
The around the room review game engages everyone. (Grades K-12) 07/01/2010
Where in the World?
Locate famous landmarks around the world; develop research skills. (Grades 3-8) 06/30/2010
"We Love to READ" Bulletin Board
Bulletin board makes perfect backdrop for mini book reports. (Grades K-5) 06/29/2010
The Presidential Campaign Game
Experience the presidential campaign process. (Grades 8-12) 06/28/2010
Editorial Cartoons
Study editorial cartoons; create your own. (Grades 9-12) 06/25/2010
Just a Minute!
This activity helps students put one minute in perspective. (Grades K-12) 06/24/2010
Book Report BINGO
Book Report BINGO offers a variety of book report approaches. (Grades 3-12) 06/23/2010
Money Math Match
Hunt for the classmate who holds a bag of coins of equal value to yours. (Grades K-5) 06/22/2010
Lewis and Clark: Equipping the Expedition
Learn about preparations Lewis & Clark made to equip their expedition. (Grades 3-12) 06/21/2010
"Carousel Brainstorm" Book Report
A fun way to review a book the whole class has read. (Grades K-12) 06/18/2010
Write a Caption!
Write captions for amusing photos. (Grades 4-12) 06/17/2010
Retablo-Style Self-Portraits
Celebrate Frida Kahlos birthday (July 6). Create self-portraits in the style of her art. (Grades 3-12) 06/16/2010
Australia: Lessons About the 'Land Down Under'
Learn about Australias culture, geography, language (Grades K-12) 06/15/2010
Proverbs of One World
Create a book of proverbs that offer lessons of tolerance and respect. (Grades 3-12) 06/14/2010
Popcorn Science
Five simple science experiments explain what makes popcorn pop. (Grades K-12) 06/11/2010
World War I Art and Artists
Learn about the artists behind paintings of World War I. (Grades 9-12) 06/10/2010
Huey and Louie Meet Dewey
Use this work sheet and resources to teach about the Dewey Decimal System. (Grades 3-8) 06/09/2010
Student Learning-Strengths Inventory
Take an inventory of your students learning strengths. (Grades K-12) 06/08/2010
Holiday Greeting Cards: A Graphing Activity
Create a graph to show the holidays that account for the most greeting-card sales. (Grades 3-12) 06/07/2010
Folktale Writing
Author helps students write folktales of their own. (Grades 3-8) 06/04/2010
You Can Count on Spelling
Scrabble spelling offers spelling and math practice. (Grades K-12) 06/03/2010
Civil War Photos Tell a Story
Write a story about one of Matthew Bradys Civil War photographs. (Grades 5-12) 06/02/2010
20 Field Day Activities Any Kid Can Do (And Do Well!)
Twenty PE activities any student will enjoy. (Grades K-8) 06/01/2010
Soccer Spelling
Capitalize on World Cup excitement. Combine spelling and soccer in this fun game. (Grades K-5) 05/28/2010
Roman Numeral Math
Solve simple math problems using Roman numerals. (Grades 3-12) 05/27/2010
Hang a Flag Mural
Greet school visitors with a student-created flag mural. (Grades K-12) 05/26/2010
Pet Pellets
Create an advertising campaign for a new pet food. (Grades 3-12) 05/25/2010
Round-Robin Reading Quiz
A cooperative reading strategy that works. (Grades K-12) 05/24/2010
Teaching About Tolerance Through Music
Analyze Peter, Paul and Mary lyrics with themes of tolerance. (Grades 3-12) 05/21/2010
Those Tear-Me-Apart, Put-Me-Back-Together, Never-Be-the-Same-Again Blues
This powerful activity illustrates how words can hurt -- or heal. (Grades PK 8) 05/20/2010
Mysteries in the Bag
Build a mystery story around a bag of evidence. (Grades K-12) 05/19/2010
"Photograph Math" Word Problems
Students write their own problems and stage photos to illustrate them. (Grades K-12) 05/18/2010
Global Economy: A Simple Activity
Explore where in the world things we use come from. (Grades 3-12) 05/17/2010
Make a Music Video
Create a short music video for a familiar children's song. (Grades K-12) 05/14/2010
Mapping the Most Common U.S. City Names
Map locations of the most common U.S. city names. (Grades 4-12) 05/13/2010
Five-O
Use logic and deductive reasoning to guess a vocab word in this team game. (Grades 3-12) 05/12/2010
"Mind Reader" Math Trick
A math-based card trick to convince their friends that they can read minds. (Grades 3-12) 05/11/2010
Wind and Wings
Experiments help students understand the principles of flight. (Grades K-8) 05/10/2010
Map Projections: The Grapefruit Activity
Hands-on activity teaches about different map projections. (Grades 6-12) 05/07/2010
The Wall Inspires Letters to Veterans
In, time for Memorial Day, inspire students to write letters to veterans at local hospitals. (Grades K-12) 05/06/2010
Candy Colors: Figuring the Mean, Median, and Mode
Count candies by color; then calculate mean, median, and mode. (Grades 3-12) 05/05/2010
Rock My World
Hands-on activity demonstrates how continents, oceans formed. (Grades 6-8) 05/04/2010
Four Corner Fun: A Review Game
Multiple-choice questions are center stage in this review activity. (Grades PK12) 05/03/2010
Spelling Takes a Hit!
This game puts the active in spelling active-ity! (Grades K-5) 04/30/2010
What Did It Cost 100 Years Ago?
Compare prices of goods today and 100 years ago. (Grades 3-12) 04/29/2010
Civil War Photos Tell a Story
Write a story about one of Matthew Bradys Civil War photographs. (Grades 5-12) 04/28/2010
Math Madness: A Game for Small Groups
Adapt this active game for any math skill you are teaching. (Grades K-12) 04/27/2010
Earth at Night
Identify 10 cities on an Earth at Night map. (Grades 3-12) 04/26/2010
A 'Teacher Appreciation Week' Card For the Teacher
A nice project for art class; every student creates a different card for the teacher. (Grades K-8) 04/23/2010
Crazy Laws: There Must Have Been a Good Reason?
Investigate some crazy laws on Law Day, May 1. (Grades 5-12) 04/22/2010
Write a Teacher-Appreciation Letter
Celebrate Teacher Appreciation Week by having students write a letter to a former teacher. (Grades 3-12) 04/21/2010
Fifty States Field Day
Fifty States Field Day exercises geography skills. (Grades PK 12) 04/20/2010
Lesson of the Day
Read and reflect on the letters of President Harry Truman, whose birthday is May 8. (Grades 6-12) 04/19/2010
Using Graphic Organizers to Generate Genre Definitions
Use a graphic organizer to form definitions of a variety of literary genres. (Grades 3-12) 04/16/2010
Draw Like an Egyptian
Learn how to draw like an Egyptian. (Grades K-12) 04/15/2010
Create a Graph Online
Students create beautiful graphs with an easy-to-use online tool. (Grades K-12)04/14/2010
Civil War Slang
Explore slang words and phrases used during the Civil War. (Grades 6-12) 04/13/2010
Arbor Day Across the United States -- A Color-Key Map Activity
Use a color key map to learn about planting times in the U.S. (Grades 3-8) 04/12/2010
"Giggle Poetry" Theater
Perform silly poems as theater during Poetry Month. Scripts provided. (Grades 3-8) 04/09/2010
The San Francisco Earthquake of 1906
Recognize the anniversary of the San Francisco earthquake (April 18) with this comprehension activity. (Grades 4-12) 04/08/2010
Earth Day Jeopardy
Play this Jeopardy-like game on Earth Day, or anytime. (Grades 3-12) 04/07/2010
Water Use Around the World
Compare your water use with water use in other places around the world. (Grades 3-12) 04/06/2010
You Be the Editor
Student-editors work in teams to correct errors in this fast-paced activity. (Grades K-12) 04/05/2010
Postmark U.S.A.
Collect postmarks; track them on a classroom map. (Grades K-8) 04/02/2010
Overflowing the Banks
Hands-on activity teaches how floods happen. (Grades 3-8) 04/01/2010
Postmark U.S.A.
Collect postmarks; track them on a classroom map. (Grades K-8) 03/31/2010
Overflowing the Banks
Hands-on activity teaches how floods happen. (Grades 3-8) 03/30/2010
Vegetable Rock Garden
Grow vegetable sections without soil. (Grades K-5) 03/30/2010
Kids Bullying Kids
Survey, discuss data about bullying in your school. (Grades 3-8) 03/30/2010
Spelling Counts!
Create and solve codes based on the numerical values of spelling list words. (Grades 3-8) 03/29/2010
The Case of the Disappearing Frogs
Students work to solve The Case of the Disappearing Frogs. (Grades 3-8) 03/26/2010
Weekly Math Challenge
Set up a Math Challenge Center in your classroom. (Grades 3-12) 03/25/2010
Students' Favorite Reading Topics
During National Library Week (April 11-17), have students survey classmates reading preferences. (Grades K-8) 03/24/2010
Up-to-Date Aesop
Rewrite an Aesop fable in modern language and a modern setting. (Grades K-12) 03/23/2010
Think About It!
Creative-thinking problems. Perfect for April Fools day fun. (Grades 3-8) 03/22/2010
Let Your Fingers Do the Estimating
Estimate the number of phone listings in you local telephone directory. (Grades 3-12) 03/19/2010
In Your Opinion: Are Athletes Heroes?
Stage a classroom debate of the question Are athletes heroes? (Grades 6-12) 03/18/2010
Backwards Day
Plan a "Backwards Day" on April Fool's Day or for a fun reward. (Grades PK - 8) 03/17/2010
"Two Diamond Baseball" Review Game
This "baseball" game can be used to reinforce skills in any subject. (Grades K-12) 03/16/2010
Bug Me While I'm Eating!
Its Nutrition Month -- compare the nutritional values of insects and your favorite foods. (Grades 3-12) 03/15/2010
Best-Selling Books Bar Graph
Create a graph of the best-selling childrens books of all time. (Grades K-5) 03/12/2010
Art Imitating Life
Explore role of women by examining art through history. (Grades 6-12) 03/11/2010
Egg Hunt Reinforces Math, Language Skills
Do it indoors, or take kids outdoors for a fun learning activity and a little exercise. (Grades K-8) 03/10/2010
String Eggs
Decorate the classroom with beautiful string eggs for Easter, which is April 4. (Grades 3-8) 03/09/2010
Graphing Our Snacks
During Nutrition Month, graph the fat content of favorite snack foods. (Grades 3-12) 03/08/2010
What Happened?
Explore legends surrounding volcanoes, write your own legend. (Grades 3-12) 03/05/2010
Create a BIG Book
Create a big book edition of a favorite story. (Grades K-2) 03/04/2010
Eating Up Idioms
During Nutrition Month (March), feed your students a diet of food idioms. (Grades 3-12) 03/03/2010
Word-zles
Wordzle puzzles make fun thinking activities. (Grades 3-12) 03/02/2010
Grow a Great Spring Bulletin Board: Eggshell Flowers
Create a colorful spring bulletin board using this fun art project. (Grades K-5) 03/01/2010
Chain Together a Book Report
Students work in small groups to put together Chain Book Reports. (Grades K-12) 02/26/2010
Women's Words of Wisdom
Create a bulletin board of inspiring quotes by famous women. (Grades 4-12) 02/25/2010
Immigrants Who Built America
Explore the lives of ten immigrants who helped make American strong. (Grades 5-12) 02/24/2010
Multiple Meanings Game
Hunt for the classmate whose definition card leads to the same word as yours. (Grades 2-8) 02/23/2010
Fun Food Quiz: True or False?
During Nutrition Month (March), use this fun food quiz to test students knowledge of vegetables, fruits. (Grades 3-8) 02/22/2010
Black History Rap
Write a rap lyric about a famous African-American. (Grades 3-12) 02/19/2010
Visual Fractions Game
Create a classroom fractions competition using a Web-based game. (Grades 3-8) 02/18/2010
Plan a Read-All_Day Day
Celebrate Read Across America/World Book Day on March 2. (Grades K-12) 02/17/2010
Three-Way Match: Famous Black Americans
A unique three-way matching activity teaches about famous African Americans. (Grades 4-12) 02/16/2010
Who Wrote That?
Students have fun identifying which classmate wrote each response to a writing prompt. (Grades K-12) 02/15/2010
365 Days of African-American History
During Black History Month, create a 365-day calendar of African-American history. (Grades 6-12) 02/12/2010
George Washington Teaches Map Directions
George Washington teaches math, directions. (Grades 3-8) 02/11/2010
Word Processing Can Be Lots of Font
Fun poem activity reinforces basic word processing skills. (Grades 3-8) 02/10/2010
Langston Hughes Was a Dreamer Too
Learn how Langston Hughes expressed his dreams through poetry. (Grades 2-12) 02/09/2010
Meet Our Presidents Bulletin Board
Research and create a "Meet Our Presidents" bulletin board display. (Grades K-12) 02/08/2010
Follow the Drinking Gourd
Create an art project based on a song used to guide slaves to freedom. (Grades K-2) 02/05/2010
Secrets of the Presidents
Learn secrets of the presidents with this printable activity. (Grades 3-8) 02/04/2010
Multiple Meanings Game
Hunt for the classmate whose definition card leads to the same word as yours. (Grades 2-8) 02/03/2010
Fabulous Firsts in African-American History
During Black History Month, learn about famous firsts in African-American history. (Grades 3-12) 02/02/2010
Graph the Presidents At Inauguration: How Old Were They?
For Presidents Day, graph the presidents' ages at inauguration. (Grades K-8) 02/01/2010
Candy Heart Stories
Use the text on candy hearts to write a story. (Grades 1-8) 01/29/2010
How Tolerant Are Kids in Your School?
Graph results of a survey about attitudes and tolerance in your school. (Grades 6-12) 01/28/2010
Broken-Heart Matching Game
Reinforce skills with this Valentines Day matching game. (Grades PK-12) 01/27/2010
Coin Count & Classification
Celebrate Abe Lincoln by making penny predictions. (Grades 3-12) 01/26/2010
The Recycle Games
You know the Olympic Games. How about the Recycle Games? (Grades K-12) 01/25/2010
Everybody Is Unique: A Lesson in Respect for Others
Art activity teaches about respect for others unique qualities. (Grades K-8) 01/22/2009
The Magician's Apprentice
Performing magic tricks teaches the importance of following directions. (Grades 3-8) 01/21/2009
Pictures Tell a Story: A Lesson in Sequencing
Students illustrate sequential events in a story or in history. (Grades K-8)01/20/2009
Hoot, the Movie And Classroom Activities Too
Teaching activities to accompany the book Hoot.. (Grades 5-8) 01/19/2009
Dictionary Detective
Build students' dictionary skills with this fun activity. (Grades 3-12) 01/18/2009
Comparing Composers: Beethoven and Mozart
Celebrate Mozart (January 27) by comparing Beethoven and Mozart. (Grades 3-12) 01/15/2010
Anticipation Guides Improve Reading Comprehension
Use anticipation guides to help your students focus on content-area reading assignments. (Grades K-12) 01/14/2010
Map Projections: The Grapefruit Activity
Hands-on activity teaches about different map projections. (Grades 6-12) 01/13/2010
How Do Clouds Form?
A hands-on experiment illustrates how clouds form. (Grades K-5) 01/12/2010
Chinese New Year: A Simple Lesson in Debt, Percent, and Loan Interest
A Chinese New Year (February 14) lesson in percent and loan interest. (Grades 5-12) 01/11/2010
Tissue, Please!
Teach cold-season manners with a read-aloud story, art project. (Grades PK -2) 01/08/2010
Power Problem
Calculate losses caused by a snowstorm. (Grades 3-8) 01/07/2010
Snow Paintings
Use food-coloring mixtures to paint on snow. Fun winter art activity. (Grades PK-5) 01/06/2010
Martin Luther King Jr.: Pre- and Post-Reading Activity
A pre- and post-reading exercise about the life of Dr. King. (Grades 3-8) 01/05/2010
Lewis and Clark: Equipping the Expedition
Prep along with Lewis & Clark for their 1803 expedition. (Grades 3-12) 01/04/2010
Speedy Spelling Bee
Teams of students work together in this spelling bee with a twist. (Grades K-12) 12/17/2009
Following Directions
This lesson proves that frequent practice can improve skills. (Grades 5-8) 12/16/2009
Use Literature to Teach Tolerance
Use popular literature to teach tolerance. (Grades PK 12) 12/15/2009
Hieroglyphics: It's Not Greek to Me! (It's Egyptian!)
Use hieroglyphic characters, an online hieroglyphic translator too. (Grades 3-12) 12/14/2009
The Betsy Ross Story: Truth or Legend?
Just in time for Betsy Ross Day (January 1): the Betsy Ross story -- truth or legend? (Grades 3-12) 12/11/2009
H2O to Go
Sponge relay race offers a fun way to learn math (measurement) skills. (Grades K-8) 12/10/2009
100 Years Ago in History
Start the new year by investigating events that happened 100 years ago this year. (Grades 5-12) 12/09/2009
Fact-O!
Practice math facts with this game of skill and chance. (Grades K-12) 12/08/2009
Sunrise, Sunset: Quickly Go the Days
Why does Alaska have less daylight than your state has? (Grades 3-12) 12/07/2009
Holiday Wreath Ornament
Fun holiday project: create a holiday wreath ornament. (Grades K-5) 12/04/2009
How the Kangaroo Got Its Pouch
Create a play based on an Australian kangaroo legend. (Grades 3-5) 12/03/2009
Seasonal Notepad Gift
In this simple technology lesson, students create a seasonal notepad gift. (Grades K-12) 12/02/2009
Planet X
Celebrate the Bill of Rights anniversary (December 15) by writing a Bill of Rights for a colony you are founding on a distant planet. (Grades 4-8) 12/01/2009
A Musical Holiday Gift
A CD song collection by your students makes a great gift for any holiday. (Grades PreK-12) 11/25/2009
Teaching Students to Tell Time: Three Resources for Busy Teachers
Three activity sheets develop, reinforce time-telling skills. (Grades K-5) Math 11/24/2009
A Math Game for Reinforcing Computation Skills
This dice-and-math game provides practice in many math skills. (Grades K-12) 11/23/2009
Geography Twister
Students exercise while they play this fun geography game based on Twister. (Grades K-12) 11/20/09
Rosa Parks Changed The Rules
Recognize the anniversary of Rosa Parks historic bus ride (December 1) by completing a diagram of the bus. (Grades K-5) 11/19/09
Bowling Math
Keeping score of a bowling match is a fun way to learn math. (Grades 3-8) 11/18/09
"Book Report Gallery Bulletin Board
A camera is all you need to create this fun bulletin board for Book Week or anytime. (Grades PK-8) 11/17/09
May I Take Your Order, Please? (A Sequencing Activity)
Adapt this "sequencing" reading lesson to all subjects. (Grades 3-12) 11/16/09
You Are the Historian: Investigating the First Thanksgiving
Learn the truth about the First Thanksgiving. (Grades 3-8) 11/13/2009
Thanksgiving Feast (Read the Charts)
Learn about where some Thanksgiving foods are grown. (Grades 3-8) 11/12/2009
Graphing the Annual Food Drive
Graph the amount of food that comes in during the annual food drive. (Grades K-12) 11/11/2009
Thanksgiving Placemats: A Community- Service Project
Make Thanksgiving placemats as a community service project. (Grades PK-12) 11/10/2009
Anti-Smoking Letter Writing Campaign
Celebrate the Great American Smokeout (November 19) by having students write a letter to encourage a friend not to smoke. (Grades 3-12) 11/09/2009
Drafting the Gettysburg Address
Recognize the anniversary of Lincolns Gettysburg Address (November 19) by comparing its draft to the final version. (Grades 6-12) 11/06/2009
Turkeys Gobble Up Bulletin Board Space
Two fun ways for turkeys to gobble up bulletin board space. (Grades K-5) 11/05/2009
Lewis and Clark's Journey West: A Timeline Activity
Recognize the anniversary (November 18) of Lewis & Clark reaching the Pacific. (Grades 3-12) 11/04/2009
Design a Navajo Rug -- A Lesson in Symmetry
Create a Navajo rug; a lesson in symmetry. (Grades 3-8) 11/03/2009
Smoking Danger Demonstration
Recognize the Great American Smokeout (November 19) by demonstrating the dangers of smoking. (Grades K-12) 11/02/2009
Native American Misconceptions
Blast students stereotypes about Native Americans. (Grades K-5) 10/30/09
Wacky Word Play
Combine students' love of word games and drawing. (Grades 3-12) 10/29/09
What a Pair! A Cross-Grade Writing Activity
Young students role play being President of the United States. (Grades K-3) 10/28/09
Stage a Poetry Slam!
Stage a classroom or school-wide poetry slam. (Grades 3-12) 10/27/09
Every Day Is Presidents' Day At the White House
Older and younger students team up in this cross-grade writing activity. (Grades K-12) 10/26/09
Huey and Louie Meet Dewey
Use this work sheet and resources to teach about the Dewey Decimal System. (Grades 3-8) 10/23/2009
365 Days of African-American History
Create a 365-day calendar of African-American history. (Grades 6-12) 10/22/2009
Help Wanted: President of the United States
Learn about the Presidents responsibilities; write a want ad for the position. (Grades 3-12) 10/21/2009
The Wall Inspires Letters to Veterans
Inspire students to write letters to veterans at local hospitals. (Grades K-12) 10/20/2009
Dead Word Wall Kills Overused Words
Create a Dead Word Wall to kill words overused in student writing. (Grades K-12) 10/19/2009
The Top Ten Reasons for Going Into Space
Consider the validity of the top ten reasons for going into space. (Grades 6-12) 10/16/2009
Bueno Brothers' Bean Dip
How many words can be formed from a scoop of lima bean letters? (Grades K-8) 10/15/2009
"War of the Worlds: A Broadcast Re-Creation
Relive -- and re-create -- the panic-causing 1938 radio broadcast of "War of the Worlds." (Grades 6-12) 10/14/2009
Tabloid Tales
Write a story for one of these unbelievable tabloid news headlines. (Grades 3-12) 10/13/2009
Postmark U.S.A.
Collect postmarks; track them on a classroom map. (Grades K-8) 10/12/2009
Report on a Reporter
Invite a news reporter to visit class; write news reports about the visit. (Grades 3-12) 10/09/2009
Rescuers: Those Who Risked Their Lives to Save Others
Read Holocaust rescue accounts, write reflective essays. (Grades 6-12) 10/08/2009
The Alphabet Game
Use alphabet cards to play a small-group spelling game. (Grades K-8) 10/07/2009
Saying No!
Celebrate Red Ribbon Week (October 18-26) by presenting plays about saying no to drugs. (Grades 3-12) 10/06/2009
Students' Favorite Reading Topics
Students survey their classmates reading preferences. (Grades K-8) 10/05/2009
Celebrate Character Counts! Week In October
Ten ideas for celebrating Character Counts Week (October 19-25). (Grades PreK-12) 10/02/2009
Halloween Party Alternatives from UNICEF
Replace your Halloween party with a valuable service-learning project. (Grades PreK-12) 10/01/2009
Where Did Foods Originate? (Foods of the New World and Old World)
Explore how New World explorers changed the Old World's diet. (Grades K-12) 09/30/2009
Space Tourism Brochure
Create travel brochures to sell tourists on the concept of space travel. (Grades 6-12) 09/29/2009
Go West With Columbus
Go West With Columbus game teaches map skills. (Grades K-5) 09/28/2009
Create a Globe
Make globes from balloons and a paper-paste mixture. (Grades 3-5) 09/25/2009
Fire Safety Songs (and Poems Too)
Songs, poems for Fire Safety Week, October 4-10. (Grades PreK-2) 09/24/2009
Catchy Captions
A lesson in newspaper photo captions and caption writing. (Grades K-5) 09/23/2009
The Million $ Mission
Calculate the quickest way to earn $1 million in one month. (Grades 3-12) 09/22/2009
The Great Chicago Fire: Did Mrs. OLearys Cow Really Cause It?
Investigate the cause of the Great Chicago Fire (October 8, 1871). (Grades 6-12) 09/21/2009
An Immigration Graph
Create a graph to show the number of immigrants by country of origin. (Grades 3-8) 09/18/2009
Graph the Results: Applesauce Taste Test
Make three kinds of applesauce, hold an applesauce taste test. (Grades PreK-8) 09/17/2009
Where Am I?
Use latitude and longitude to identify volcano locations. (Grades 6-12) 09/16/2009
Did You Know...
Take a true-false quiz about Hispanic history. (Grades 6-8) 09/15/2009
Autumn Colors Shine Through
Let autumn shine through with colorful window decorations. (Grades K-5) 09/14/2009
Bark Art
Learn about Australias Aborigines, create Aboriginal bark art. (Grades K-5) 09/11/2009
Read a Fall Foliage Map
Use a color key to read a fall foliage map. Printable work sheet included. (Grades 3-8) 09/10/2009
Tracking Falls Falling Temperatures
Reinforce many skills by tracking falling temperatures this fall. (Grades 3-12) 09/08/2009
Pinwheels for Peace
Create "pinwheels for peace" to celebrate International World Peace Day September 21. (Grades K-12) 09/07/2009
How Well Do You Follow Directions?
Teach valuable lessons about listening and following directions. (Grades K-12) 09/4/2009
Five-O
Use logic and deductive reasoning to guess a vocab word in this team game. (Grades 3-12) 09/3/2009
Civil War Slang
Explore slang words and phrases used during the Civil War. (Grades 6-12) 09/2/2009
The Week That Was
A weekly writing assignment results in a year-end volume of work that documents students' writing progress. (Grades K-12) 09/1/2009
Geography Bee
Hold a classroom Geography Bee. (Grades 3-12) 08/31/2009
Ball and Triangle Game
Create a modern version of an old Native American childrens game. (Grades K-8) 08/28/2009
Create a New Amendment
Recognize Constitution Day (September 17). Work in groups to propose a new amendment to the Constitution. (Grades 6-12) 08/27/2009
Bing!
This game combines spelling words and chance. (Grades K-12) 08/26/2009
Who Are Your Heroes?
Work sheet helps students organize their Who is my hero? thinking. (Grades 3-8) 08/25/2009
Map Your Favorite Sports Team's Next Road Trip
Use maps to chart a favorite sports teams next road trip. (Grades 3-12) 08/24/2009
Memorable Maps
Memorable maps lesson shows a year of geography skill growth. (Grades K-12) 08/21/2009
A "Typical Day Then and Now
Celebrate Grandparents Day (Sept. 13). Students compare their "typical day" to a grandparent's childhood. (Grades K-8) 08/20/2009
Getting-to-Know-You Crossword Puzzle
A class crossword puzzle makes a great back-to-school activity or bulletin board. (Grades K-12) 08/19/2009
I Think, Therefore
Use logic to complete a statement by Charles Darwin. (Grades 9-12) 08/18/2009
What's in a Name?
Use clues to identify U.S. cities with unusual names. (Grades 3-12) 08/17/2009
World War I Art and Artists
Learn about the artists behind paintings of World War I. (Grades 9-12) 08/14/2009
Drafting the Declaration of Independence
The Declaration of Independence: compare Jeffersons draft with the final version. (Grades 6-12) 08/13/2009
Simon Says "Who Are You?"
This Simon Says game highlights students similarities, differences. (Grades K-5) 08/12/2009
Puzzle Race Builds Cooperative-Group Skills
A puzzle race builds cooperative group work skills. (Grades K-8) 08/11/2009
Cutting Costs With Coupons
Clip newspaper food coupons, add up the savings. (Grades 3-8) 08/10/2009
Germs Experiment 2
Use glitter to demonstrate how germs travel. (Grades K-5) 08/07/2009
Understanding Needs and Feelings
Complete this story to show how different people deal with needs, feelings. (Grades 3-5) 08/06/2009
The World Of Anne Frank
Ideas for teaching about the life and diary of Anne Frank. (Grades 6-12) 08/05/2009
Civil War Recipes
Prepare foods Civil War soldiers might have eaten. (Grades K-12) 08/04/2009
The Human Body: A Life-Size Model on Paper
Create life-size diagram of the human body. (Grades K-12) 08/03/2009